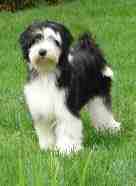 In the spotlight is New Champion Kiara Harlem Song. She's known as "Sadie" in her personal quarters. She is quite a nice package. Besides the exceptional form and substance, she comes with an exuberant personality. (That's okay Mike, you'll tame her.) Sadie always is bubbly with excitement. Always the attention seeker, Sadie garners praise wherever she goes…in the dog park, NYC streets, and certainly – when she's on her best behavior-- in the show ring.

Sadie lives with the McLoughlin family. She shares them with older aunty Lucy (CH Kiara Lucy In The Sky: the first Spot-lighted Kiara Tibetan Terrier) and their Wheaten Terrier, Murphy.

Sadie is at the start of her show career. Just about two years old, she's just beginning to bloom. Watch out for Sadie!