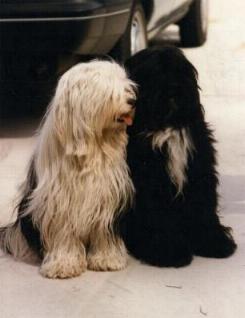 In the beginning there was Katie. We were lucky to breed Katie to Ollie, a handsome black TT bred by Ed and Eileen Wilk. Their pups were the start of Kiara Tibetan Terriers.

Katie (CH Shalimar's Kiara Kate) and Ollie (CH Kontan Miss-Tee's Oliver Twist) passed on their beauty and their great TT natures to their five pups. Although the five went on to live long fruitful lives, three had an impact on the breed. CH Kiara Harlem Butterfly (Ella), CH Kiara Tuff Stuff (Gizmo), and Kiara Shalimar's Harlequin (Mikey) can be found on many pedigrees of different kennels besides Kiara. Ella remained here at home and helped to stamp the style and temperament we had hoped for onto our TTs. Although Ella passed on many years ago, you can still see her in the other Kiara Tibetans like Yogi (CH Kiara Harlem Night of Zin-Pa), one of our homebred champions. He resembles his grandma in many terrific ways!

In March of 1984, little Cleo was gifted to my mom on St. Patrick's Day. What an impressive dog she was! Smart and friendly, loving and forgiving, loyal and alert. She sold me on the breed and on getting one for myself. What a fortuitous finding.

So, for over thirty years now, many more TTs have graced this home. They have been largely responsible for the near 100 champions produced off the various limbs of an ever growing family tree. One who's roots still go back to Katie, Ella, and Cleo.

Lucky to have started with TTs who had good health, great temperaments, sound structure, and exceptional TT beauty. Not much to the map has changed here at Kiara. I am still working with the genes from those original Tibetans with which I started. There have been a few additions along the way, like Asland (CH Tsering Shamtsang Mingma), Rosie (Nivels Mint Rose), and most recently a breeding to Bocce (CH Arkeden N Kiskades Havin A Ball) from which a new pup will take his spot in helping hone the Kiara Line in the future. These additions were carefully selected not to introduce anything but "wonderful" into a winning recipe.